Hacienda Chekul was designed by award-winning and renown architect Salvador Reyes Rios, whose accomplished style reflects the best architectural heritage of this region while providing a blissful vacation home with all the comforts of contemporary living. The hacienda sits nestled on a six acre jungle estate with 328 feet of pristine beachfront situated just off its spacious, arched terraces and is also bordered by the fishing paradise of the Campechen Lagoon. The house has a big living and dining area and features opportunities from all directions to contemplate and enjoy the lush vegetation, the myriads of tropical birds, and the spectacular turquoise colors of the sea, all with the maximum exclusivity and privacy. It has a fully fitted kitchen, 4 bedrooms and 5 bathrooms and plenty of outside terraces. The rooftop presents a lovely terrace with its own lush green garden and a 30 feet sparkling infinity swimming pool.
Full Service Luxury Villa
The villa is offered with a very attentive and personalized staff. The rates include full staff, all meals, snacks and non-alcoholic beverages. Special attention is given to the service with personalized dietary and hospitality requirements, taking special care to give you a very attentive, but discrete service that makes you feel in your own home.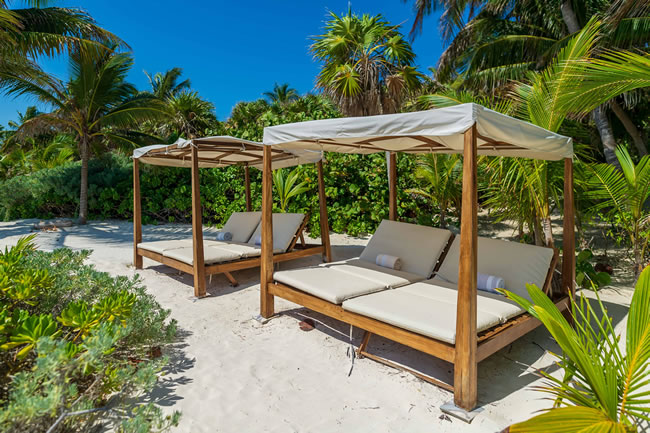 Extraordinary Beach Front Rental
Hacienda Chekul is located inside the Biosphere Reserve of Sian Kaan, just 20 minutes away from the stylish restaurants of Tulum (depending on road conditions and the weather); Its Caribbean beach couldn't be more blissful with its fresh breeze, cool white sand and picture-perfect coconut palms leaning towards the sea.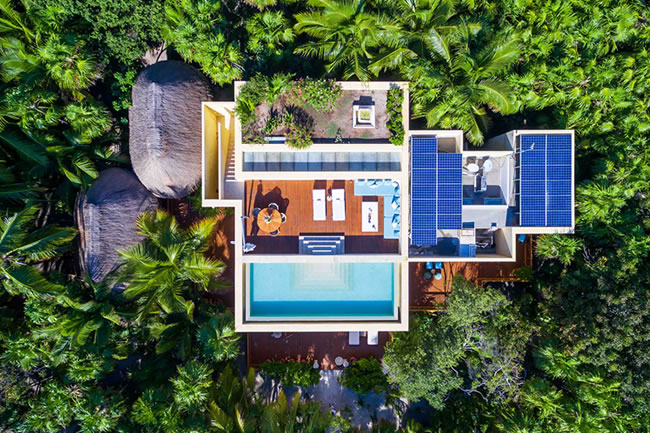 Environmentally Conscience Living
At Hacienda Chekul we care a lot about the environment and its sustainability, making this property completely self sufficient through the use of state of the art solar and wind power systems, bringing you all the modern comforts such as AC in all bedrooms, SKY TV, cinema entertainment and broadband wi-fi internet.
Hacienda Chekul
is the ultimate luxury villa rental in the Mexican Caribbean
for the most discerning travelers!